2012 Hike-a-Thon
Site Navigation
Though happy to finish the 12 hikes, both Joy and I felt cheated. We had been ready and looking forward to the Bear Mountain Peak hike. It was almost mid-May and there was very little chance that we would get a window of even moderate temperatures that could allow us to do the hike. But, lo and behold, an unseasonal cold front was expected to move in on the 25th. There was even a 30% chance of showers. We decided to make our 12 hikes a baker's dozen by doing this additional hike.
It was 41°F when we started at 7:30 A.M. from the park headquarters. I decided not to stash any water at Poverty Flat and left the quart water bottle in the car. As it turned out, we drank less than two quarts each. On a similar hike a few years ago, I had consumed about five quarts. The high temperature probably was in the low sixties.
This was a low-rainfall year and it was late in the season. Narrows Trail is along, and at times in, the East Fork of Coyote Creek. I reasoned that there wouldn't be much water this year. I decided to take Shafer Corral Trail and then the Narrows Trail instead of continuing on Poverty Flat Road and Blue Ridge Road to Bear Mountain Road. I hoped to save a few hundred feet of ascent, but it turned out to be a mistake. We were attacked by ticks at a high rate and the high grass put prickers all over our socks and boots. We spent more than 20 minutes getting rid of ticks and removing the prickers. I assured Joy that we wouldn't use the 'easier' route on our return.
We continued on Bear Mountain Road which, for two miles, is essentially the creek bed. It was time-consuming to look constantly for dry parts of the creek. Then, the road left the creek bed and climbed steeply. After walking up a thousand feet, we took a deer trail, scrambled up a few hundred feet, and stood on the peak. We were surprised to see very tall grass. I distinctly remember sitting down and enjoying the views when we placed the cache six years ago. This time, I had my lunch standing up while Joy sat on a boulder. Maybe it was the intervening hot days that had made the grass grow up.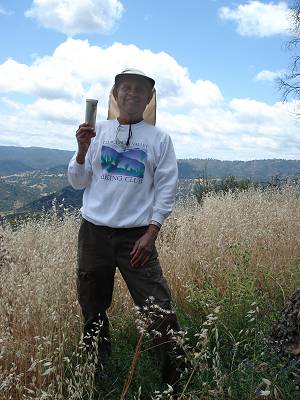 We felt a few raindrops as we descended Bear Mountain Road, but on the level part we got drenched with heavy rain that lasted about five minutes followed by many light showers. As I was trudging up the last big climb from Poverty Flat, I told myself I am getting too old for this. The hike entailed 22-plus miles with an elevation gain of just under 5,000 feet. It had taken us just under 12 hours.
But the very next day I wondered if we could hike from the Coyote Creek entrance to Mt. Sizer, yet another Henry Coe blockbuster.
Statistics
| | |
| --- | --- |
| Total distance hiked: | 271 miles |
| Average distance hiked per day: | 20.9 miles |
| Total elevation gain: | 47,400 feet |
| Average elevation gain per day: | 3,650 feet |
Dinesh Desai
July 2012
Site Navigation