2012 Hike-a-Thon
Site Navigation
April 19: Our first hike was from Saratoga Gap to Borel Hill. It is all along a ridge. I had picked it as our first hike because a casual look had me believing that the hike wouldn't have a lot of elevation change. It would be a relatively easy hike. I guesstimated a gain of less than 3,000 feet, a modest gain for a 20-mile hike. Was I wrong. The trail went up and down constantly, and while the elevation changes were not large, 100 to 300 feet at a time, the cumulative gain for the day was over 4,000 feet. So much for an easy start.
Our second hike was in Big Basin State Park. We were going to hike from the park headquarters to Waddell Beach. It is almost all downhill. To avoid having to hike uphill in the afternoon, we reversed the route and started the hike at Waddell Beach. This entailed driving 75 minutes, instead of 60 if we had started at the headquarters. Naomi, a friend of ours, had joined us. After a few mostly level miles, we headed up McCrary Ridge Trail. It was quite warm and the trail was steep and devoid of trees.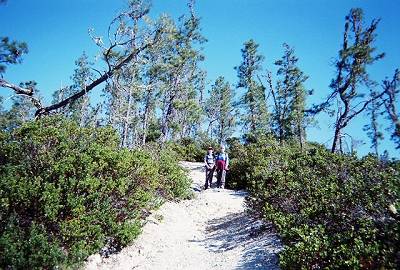 We were pouring sweat. But once we crested, the rest of the day was literally a walk in the park. We returned via the longer Skyline to the Sea Trail, about 12.5 miles in length. One of the bridges near Berry Creek Falls had been badly damaged a couple of years ago. The park service had not fixed the bridge but had solved the problem by calling it a "seasonal bridge". It wasn't too bad for us, but it would be frightening to cross it at high water.
We finished the 21-plus mile hike in under 10 hours and I was feeling pretty smug about my decision to start at the beach. But the best laid plans of mice and men have a way to go awry. On our way back, we hit the traffic heading home from the beaches and spent over two hours getting back.
Though tired at the end of each hiking day, we felt good after a day's rest. We almost eagerly awaited our next hike. Our third hike was to Rose Peak. The trailhead is in Sunol Regional Wilderness, which has an entrance gate. We usually began each hike at between seven and seven-thirty. I had called the park's information line and the recording said that the gate opened at 7:00 A.M. Their web site said the same. But when we reached the gate at 7:15 A.M., it was locked. The sign on the gate indicated that the park opened at 8:00 A.M. I was in no mood to wait 45 minutes and we squeezed our car into a tiny spot, the only spot, on the side of the road. I didn't care if I received a citation; I wasn't going to waste 45 minutes.
The trail to Rose Peak is quite strenuous. We had been to Rose Peak a few times before, and dreaded it each time. But the hike this time felt easier. Our first two 20-mile hikes must have conditioned us, and it was a beautiful spring day with wildflowers everywhere. By the way, we didn't receive any citation; an overall good day, indeed.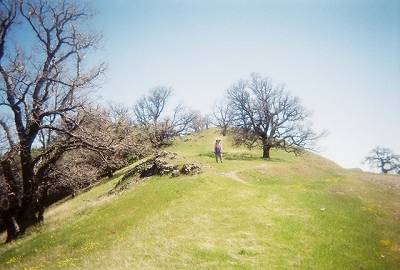 Site Navigation