2012 Hike-a-Thon
Site Navigation
After completing three hikes without any real issues, we felt certain that there would be no problem finishing the remaining nine hikes. That belief was to haunt me soon. The initial weather forecast for our fourth hike was for some showers. But then it changed to 90% chance of rain. We didn't like the idea of walking in the rain for ten hours. It would be quite miserable. We told ourselves that we didn't need to prove anything by hiking in the rain all day long. A part of me didn't want to put Joy through an unpleasant hike. We chose to skip hiking that day, though we still planned to do the 12 hikes. We were not taking a day off because we were tired, but rather because we wanted to enjoy our hikes. As it turned out, the forecast was revised again on the morning of the hike to scattered showers. But it was too late for us. I really don't know why I decided to skip the day; it is not my modus operandi. Usually, I am pretty adamant about sticking to the parameters I have set. In hindsight, we should have hiked anyway. Now, I have to live with a slightly tainted adventure. Pain is temporary, but pride is forever.
My hiking buddies Chuck, Fred, and Skip joined us for the loop hike in Joseph D. Grant Park. The hillsides were green and the temperature pleasant. We had a few ticks land on us as we hiked through some seldom-used and overgrown trails. But some bigger creatures awaited us at the top of the next long, steep uphill. There were three bulls standing right on our path. There was a large herd of cows spread out on one side and a fence on the other. Normally, we would have proceeded by giving them a wide berth, but that wasn't so easy here. I told the guys that we will just approach them boldly as a group, staying close together. Coming up the steep hill, they had left me in the dust, but suddenly I was their leader. I led the charge and it worked. The bulls looked at us briefly and moved away just enough so we could pass.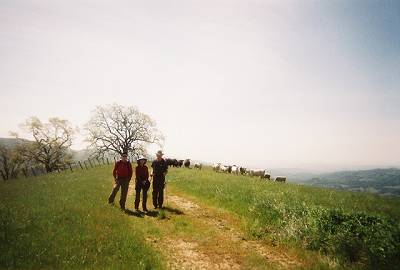 I wouldn't have had the courage to approach the bulls but for what I had learned from a bull encounter not long before. On a group hike, we came across cows standing close to the trail. I was in the lead and just kept walking saying 'shoo' and waving my arms. Each time, the cows dispersed. Then we came upon a group of just three. When I shouted at them, the first one turned around and made some grunting sounds. It was a bull. I was too close to beat a hasty retreat. My only logical option was to act as if I was in charge. I shouted and waved my arms again. To my and everyone else's surprise, the bull looked at us for a second and ran up the hill. Confidence matters a lot.
Luckily, there were no bulls on our next hike, to Pacheco Camp in Henry Coe State Park. But then I had to scratch our next planned hike, in Sierra Azul Open Space Preserve, and substitute a hike from my 'alternate hikes' list. This was a list of back-up hikes. My list of 12 hikes did not include any mostly-level hikes. Though easier, I had not included them in my original list as both Joy and I find them tedious. However, I included such hikes in my alternate list.
Though I felt fine the morning after the Henry Coe hike, by mid-afternoon, I had a slight fever. By evening, it was 100°F. The next morning, the fever was down but I felt weak. I decided to substitute Los Gatos Creek Trail for one simple reason: I could easily bail out at one of many entry points along the trail, all accessible by car. I took aspirin at regular intervals and we finished the hike.
Site Navigation