2012 Hike-a-Thon
Site Navigation
I had set aside a hike to Bear Mountain Peak in Henry Coe State Park as our twelfth and final hike. I wanted to finish our project with a bang. This would fit the bill, as it would be an extremely hard hike. We would encounter steep, long hills, creek crossings, ticks and cross country travel. And we would need to climb 1,400 feet at the very end of a long day. There are other equally-demanding hikes in Henry Coe, but I chose Bear Mountain Peak for a reason: Six years ago, we had placed a geocache on Bear Mountain Peak, and I wanted to check out the route and the cache.
I am the leader of a hiking group composed exclusively of men, most of whom are retired. We call ourselves "Rambling Wrinklies". Though we ramble, we also undertake some strenuous hikes. Once a year, we schedule a long, hard hike in Henry Coe. Most of us have a love/hate relationship with those hikes and thus with Henry Coe.
A couple of years ago, Henry Coe was on the list of state parks to be closed. But then I learned that private funding would keep it open. I called Patrick, one of our members, to give him the good news. "You call that good news?" he shot back. "I think I will set up a fund to raise money to keep it closed." Of course, Patrick was on our next hike in Henry Coe.
So, how did we fare on our Bear Mountain Peak hike? Well, I had to cancel it. Cancel? Yes, cancel. The heat wave that had started several days before was still with us. It would be almost suicidal to attempt a long hike in Henry Coe in summer-like temperatures. An alternate hike was again in order.
It would have been anticlimactic to do an easy walk along Santa Cruz beaches as our last hike. It would be a cooler walk, but it definitely wouldn't provide the bang I was looking for. I had to come up with a hike that was in a cooler climate, but still demanding and interesting. Luckily, I was able to piece together just such a hike near the coast.
Naomi, Joy and I started our hike at the end of Sneath Lane in San Bruno. This would be Naomi's fourth hike with us. While she hiked with us, her husband looked after their three kids, all under eight. He got a chance to bond with the kids, but most men can handle only so much bonding. He probably was just as happy as Joy and I that this was the last hike.
A steady climb soon put us on Sweeney Ridge. After a short visit to the Discovery Site, we descended the west slopes leading to the town of Pacifica.
The San Francisco Bay Discovery Site is where the first recorded European discovery of San Francisco Bay took place, on November 4, 1769. Spanish explorer Gaspar de Portolà, unable to find the port of Monterey, California, continued north close to what is now Pacifica. Short on water and food, Portolà and an expedition of 63 men and 200 horses left the coast to journey inland, reaching the summit of the 1,200-foot- high Sweeney Ridge where he saw San Francisco Bay.
Sweeney Ridge is now a part of the Golden Gate National Recreation Area. A monument marks the discovery site.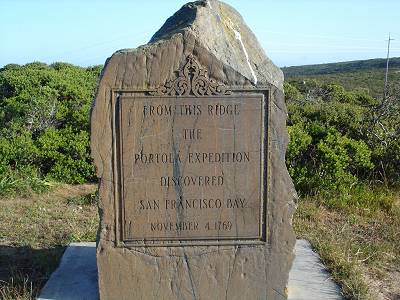 We continued on the city streets to San Pedro Valley County Park. So far that day, we had not seen the sun and the temperature was below 60°F. As we started up the trail leading to Montara Mountain, 1,600 feet above us, we met dense fog and strong winds. We were only two miles from the ocean. I wanted to escape the heat, but wasn't looking for winter-like conditions. We made it to the summit, but lunch at the top was not in the cards. After a minute's rest, we were on our way down. My original plan was to hike to Pacifica Beach via a trail different than the one we had come up, but Joy (vocally) and Naomi (silently) were not buying it. We returned to the county park and ate lunch. Luckily, the fog diminished and I coaxed them into heading for the beach, albeit on a different route, and continuing with the big loop. We arrived at the beach in clear and sunny weather. We continued to Mori Point and then climbed the steep trail to Sweeney Ridge. All that remained was an easy descent to our car. It was an exciting hike. At 23 miles, it was our longest. The elevation gain was a respectable 4,300 feet. A fitting hike for our final one. No, not exactly the final one.
Site Navigation