The Hike for the Ridge Trail Photo Album
Page Four
Our travel from Kennedy Grove Regional Recreation Area to the Chabot Staging Area next to Chabot Regional Park was all on trails. However, what could have been 28 miles of trail nirvana was marred by bad weather. Though we escaped rain, those two days were cool, cloudy, and windy.
Ready for yet another marathon day, we hit the trail from Chabot Staging Area at 7:30 A.M. with Trail Council volunteer Glen Kirby. We climbed Dinosaur Ridge and as we approached Cull Canyon, a llama came running towards us and then followed us for a while. Glen informed us that he was probably an escapee. He knew that a man owned some llamas in the area.
At Cull Canyon's picnic area, three members of the Hayward Hiking Club joined us. We went past Independent School and then crossed under the Interstate 580 freeway. At the aptly named Five Canyons area, we began a roller coaster march that lasted several hours. After crossing an East Bay Regional Park District land bank area, we entered the Blue Rock residential development lands. A representative of the company greeted us and hiked with us for over an hour. She turned back after pointing out the way to Garin/Dry Creek Park. It was almost 6 P.M. when we finished the day's hike.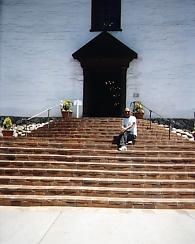 We hit a first walking from Dry Creek Regional Park to Ohlone College: we weren't accompanied by anyone, and just as well. It involved walking along Mission Blvd. in Hayward, Union City, and Fremont all day. Thinking a stop at some eatery along the way would perk up our boring march, we deliberately hadn't packed a lunch. By 1 P.M., we had found nary a place to eat. As we passed Mission San Jose, we stopped and made our offerings to St. McDonald. Miraculously, in less than five minutes, golden arches appeared on the horizon. After that experience, who could blame us if we decided to follow in the footsteps of Father Serra and visit all the California missions?
A sunny, pleasant 70-degree morning greeted us as we climbed the steep trail from Ohlone College to Mission Peak. Since this is a favorite vista point of my wife Joy and I, we took a long lunch break to enjoy the incredible view. Mission Peak has a sheer west face and it gives one a feeling of being on a real high mountain.
We continued on the ridge to Monument Peak and then crossed Scott Creek to enter Santa Clara County. After spending some time near Sandy Wool Lake in Ed Levin Park and enjoying the scenery, we finished the day by walking a couple of miles beyond it.
Hike for the Ridge Trail Home
Album Page 1 Page 2 Page 3 Page 4 Page 5 Page 6 Page 7
Dinesh Desai Home Send email to Dinesh