The Hike for the Ridge Trail Photo Album
Page Three
We spent our two nights in Napa with my friends Steve and Gus Vartan. They are into boating, not hiking, and live at the Napa Yacht Club, a development where the houses have boat docks behind them.
Wednesday, May 26, was my birthday. It just so happened we had to cover only 12 level miles that day. We were back at the Vartans' house by 2 pm just in time for a boat ride. The day ended with dinner at one of Napa's fine restaurants.
John Tuteur, a Ridge Trail supporter, accompanied us on our walk through Skyline Wilderness Park in Napa and then guided us through a short stretch of his own property. After crossing the ridge that is the Napa-Solano county line, we descended to the Green Valley Road via the City of Vallejo property. A 45 minute detour took us to a spectacular 80ft. high waterfall. The last quarter mile of trail to the falls was somewhat treacherous but the scenery was worth it, reminding me of Hawaii. We were glad John showed us that hidden gem.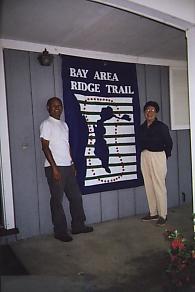 On our second day in Solano County, we traveled through Rockville Hills Community Park and then on McGary Road, currently closed to traffic due to some major slides last year. At the beginning of the Ridge Trail section near Hiddenbrooke Parkway, we were joined by a reporter and a photographer from The Times. They hiked with us on the trail and then through Pacific Gas & Electric property for nearly two hours. The photographer took almost 50 pictures. Interestingly, the picture that appeared in The Times the next day showed me passing through a barbed wire fence. They must have thought it was an attention grabber!
Our host that evening was Doris Klein, who treated us to a great pot luck dinner shared with many enthusiastic Ridge Trail supporters.
We arrived at the Benicia Marina around noon after hiking nine miles from Blue Rock Springs Park. The entire month of May had been unseasonably windy and cool in the Bay Area, and this day was no exception. Since we were planning to cross the mile-wide Carquinez Strait in kayaks, the strong winds and the incoming tide were of major concern to us. We crossed the Strait in three two-person kayaks; Steve Fiala and I in one, Scott Williams and Bob in the second and Steve Kasper and San Francisco Chronicle reporter John King in the third. Well, I know how to hike, but John knows how to write. Read his account of this adventure.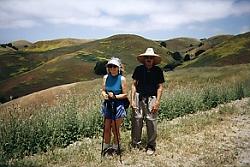 Ron Brown, a Bay Area Ridge Trail Council Contra Costa County volunteer, made sure that our Memorial Day walk was no picnic. The route through Sky Ranch, East Bay Municipal Utility District lands and Sobrante Ridge Regional Preserve involved walking 18 miles and traversing 4 ridges. The reward, however, was a wonderful view of the rolling hills. The yellow mustard and the clumps of green trees against the green-brown hills were a sight to behold.
Hike for the Ridge Trail Home
Album Page 1 Page 2 Page 3 Page 4 Page 5 Page 6 Page 7
Dinesh Desai Home Send email to Dinesh