California Sand Dunes:
A Tale of Two Adventures
Site Navigation
Rice Valley Dunes
The dunes are located just south of Highway 62, not too far from the Arizona border. The dunes are under the jurisdiction of the Bureau of Land Management and I had a very difficult time getting any useful information from them. Parts of the dunes are open to off road vehicles and all the inquiries they had in the past were only from off roaders. I was told that the dunes are currently closed. When I asked if the restriction applied to off road vehicles only, their answer was "we don't know; our information sheet just says that the dunes are closed." That left me with only one choice. Go there and find out.
After spending the night in Parker, Arizona, we drove to the dunes. They seemed to extend for miles on either side of highway 62. But, they didn't fit my idea of dunes. The terrain was sand and grass and there were occasional mounds, no more than a foot high. We could see a couple of high dunes in the distance but even they didn't seem to be very high. I was disappointed. We wandered around the "dunes" for about ten minutes so that we could claim to have walked Rice Valley Dunes.
But, the day wasn't a complete loss. Highway 62 provided us with many roadside oddities. First, there was the modern rock art; a series of love proclamations. Is it just graffiti? Well, you be the judge.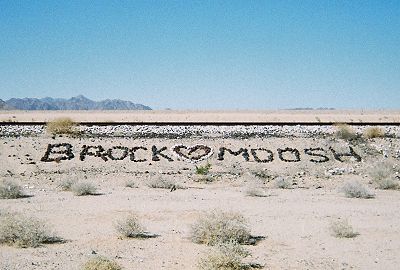 Then there was the shoe fence with lots of shoes tied to it. They were in all shapes and sizes, ranging from baby shoes to black high heels. On the same fence, around the corner, were T-shirts and bras. Years ago, only men did such stuff, but now, women appear to be bent on outdoing men.
As the story goes, there was a tamarisk "shoe tree" in place of the fence and an "underwear tree" nearby. A shoe tree starts with someone tossing his old footwear high into the sky, to catch on an out-of-reach branch. The story usually ends there. But on rare occasions, that first pair of shoes triggers a shoe tossing avalanche. The shoe tree blooms with a strange beauty. A work of art like this may last for generations, as long as the tree doesn't die. The tamarisk shoe tree did not die but, in July 2004, someone cut it down and even removed the stump.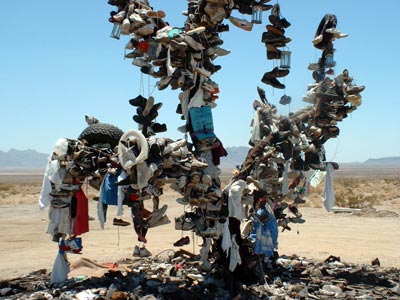 And, last but not least, was the "antique" shop at Vidal Junction: a small oasis in the desert. Joy spent an hour and found a few unique items for our yard. I was drawn to the eight-foot tall rooster, but didn't think my neighbors would see it as a plus for the neighborhood.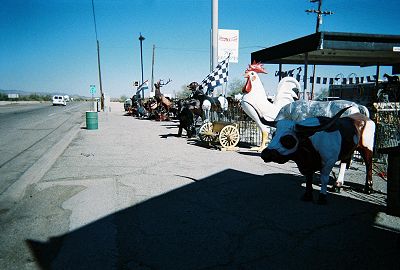 Site Navigation