California Sand Dunes:
A Tale of Two Adventures
There is something fascinating about sand. Children and even adults spend countless hours on a sandy beach building sand castles. Sand boxes in playgrounds are a major attraction. And then there are the ultimate playgrounds for the sand aficionados; the vast sand dunes along California's coast and in its deserts. They invite one to climb and then roll down their slopes, maybe on a makeshift cardboard toboggan. Photographers can't ever seem to have enough pictures of them. These dunes can be enjoyed on foot or in dune buggies. On most weekends, you may see hundreds of dune buggies at sand dunes that are open to such vehicles.
Joy and I had visited a few of the dunes in the past, but this time our goal was to explore them fully. We planned to spend an entire day at each dune. We would climb the high points of the dune and walk the length of it whenever feasible. There are many coastal as well as desert dunes but there is no published list of major dunes. After some research, I came up with my own list of major California dunes. It included two coastal dunes and seven desert dunes.
Ten Mile Dunes
These coastal dunes are located just north of the town of Fort Bragg. The dunes and the wetlands form what is known as Inglenook Fen - Ten Mile Dunes Preserve. A fen is an ecological intermediate between a bog and a marsh, and Inglenook is the only known remaining coastal fen in California. The dunes are billed as the most pristine stretch of coastal dunes and from our experience, it is not an exaggeration. While we saw people on the nearby beach and the trail, the dunes were pretty much deserted. One feature common to coastal dunes is their small height. Most are no taller than 50 feet. And, at less than a mile in width, they aren't too wide either. My plan was to walk the length of the dunes. Dune walking is something one does not do in a hurry. It is a time consuming, laborious activity and many a times, it takes an hour to travel just one mile. Even though we could walk back on the beach, it was still expected to be a 20-mile round trip. Luckily, we were able to recruit our friends, the Howards, from Washington State to do a car shuttle. They were going to drive back after visiting the Bay Area and were only too happy to join us in our adventure. Even though it was only the middle of February, we were spared the rain and wind that is usual at that time of the year. The dunes are not all sand; many plants, including a few endangered species, grow on these dunes. The four of us had a great time climbing over several small hills and walking the uneven dunes.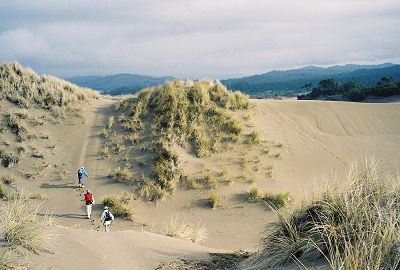 We didn't have to car shuttle, after all. A couple of weeks before we left for Fort Bragg, I found out that the Ten Mile Dunes are, in fact, only about five miles long. It reminded me of the time a friend ordered an eight-piece tupperware set only to learn later that it consisted of four containers and four lids. At the north end of the dunes is the Ten Mile River, which gets its name from the fact that it is ten miles north of the Noyo River, south of Fort Bragg. Ten Mile Dunes are so called because they are near the Ten Mile River. Though it didn't matter that the dunes weren't ten miles long, I resolved not to make any such foolish assumptions in the future.
Site Navigation