California Sand Dunes:
A Tale of Two Adventures
Site Navigation
Kelso Dunes
These unique and isolated dunes are located in Mojave National Preserve. They rise to more than 600 feet and stretch for miles in every direction. They occupy over 45 square miles. Their sand particles are mostly light colored quartz, giving the dunes a golden appearance. And then there is their tendency to "boom". They produce a low rumbling sound when sand grains slide down the steep slopes. If the sand has the right moisture content, a booming sound may be produced by running down the dunes.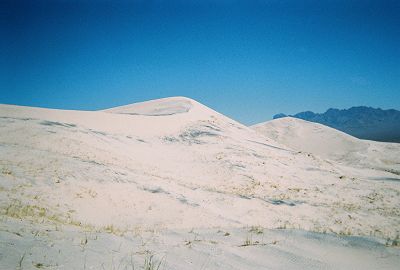 Mojave National Preserve was established in 1994. It is the fourth largest national area in the lower 48 states, behind Death Valley, Yellowstone and Grand Staircase - Escalante. Still, it remains mostly unknown. Except for a wonderful visitor center, there are few tourist facilities. There are no gas stations, motels or restaurants. The nearest civilization is in Baker. But, if you love solitude and enjoy exploring the desert, Mojave is the place for you. The elevation varies from 800 feet near Baker to almost 8,000 feet at the summit of Mt. Clark, giving one many cool places to escape the summer heat.
A three-mile drive on a well-graded dirt road put us in front of the tallest part of the dunes. My initial plan, hatched in the comfort of my home, was to walk to the far end of the dunes and get on a ridge. We would then walk several miles on the ridge and return via a lower route. I soon found out how difficult it was to walk these dunes. There were big depressions and hills everywhere. An hour and a half later, we were still a long ways from the beginning of the ridge. We changed course and decided to get on the high ridge by climbing its face. By carefully picking our way, we avoided the steepest part. Still, it was slow going. It was quite hot with no breeze to temper the heat.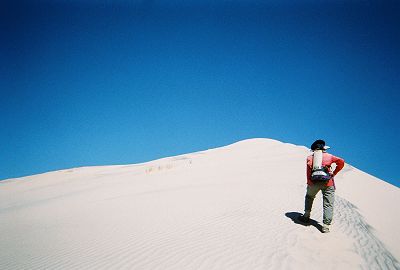 Once on the ridge, we made good progress. But our joy was short lived. We could see the highest point in the distance, but the ridge appeared to drop several hundred feet before rising again to the summit. Three hours after leaving the car, we were on the 600-foot high summit. We had a panoramic view of the dunes and a well-deserved rest. As we sat there enjoying our lunch, we saw several young people making their way up to the top. A few of them gave up and turned back. We continued on the ridge for another hour and were duly impressed by the vastness of the dunes. Then, it was time to turn around. We were running low on water and our car was still a couple of hours away. We turned 90 degrees and headed down the face of the dunes. We took fairly big steps -- it was downhill, after all -- and to our amazement, with each step, we heard a low droning sound. The Dunes were booming and we were delighted to be experiencing the phenomena first hand. We zigzagged our way down the slope creating different sounds.
Our next day's destination was less than an hour's drive away and my original plan was to camp at Kelso Dunes. However, it was only three in the afternoon when we finished our walk. Joy didn't relish the prospect of sitting around in the hot surroundings for several more hours. She opted for a two and a half-hour drive to the nearest motel.
Cadiz Dunes
The dunes are located in the Cadiz Wilderness. Trying to describe their location, even to people who know the desert, is an exercise in futility. They are miles from any well-known town or a highway. No wonder they are seldom visited. Another obstacle is the three-mile approach road. After a windstorm, it can be extremely sandy as it nears the dunes and there is no easy way to turn around except at the end. Even though we were fishtailing from time to time, we were lucky to be able to make the trip without any incident. I do not recommend a visit unless you are on a camel.
The dunes reminded me of Mesquite Flat Dunes, except that these dunes had a real wild feel to them. The soft white sand was interspersed with creosote bushes. We were there on a weekday and there were no people or cars. There were many ridges and it was exciting climbing the steep faces. After walking the dunes for several hours and safely negotiating the approach road back, I decided to tempt fate and drive 35 miles of unpaved Cadiz-Rice road. The alternative was to drive 100 miles on paved roads. We breathed a sigh of relief when we made it to the highway without a flat or getting lost at several confusing intersections. However, at 25 mph, we didn't save any time.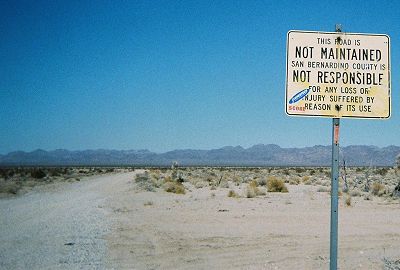 Site Navigation