The Mountains
We started walking from our motel in Lone Pine and soon were on the road to Whitney Portal. It was only thirteen miles away, but almost 5,000 ft. above the town. Since we didn't have the permit to climb Mt. Whitney, our alternate plan called for Harold to drive us from Whitney Portal to Grandview campground in the nearby White Mountains. From the campground, which is approximately at the same elevation as Whitney Portal, we would walk to the top of White Mountain. Even though it was only 250 feet lower than Mt. Whitney, I wasn't happy with the plan. Actually, climbing White Mountain would have required us to climb a little less, but walk 14 more miles. No matter. It wasn't the highest. But what really had bothered me was the fact that our walk from Badwater to White Mountain wouldn't have been a continuous one. We would have used a vehicle to travel from Whitney Portal to the Grandview campground.
I made good progress and was pleasantly surprised to reach Whitney Portal before noon. Best of all, in spite of the 5,000 ft. climb, I felt strong and the three of us started up the Mt. Whitney trail just to take a look. The trail looked well maintained. We climbed a few hundred feet and then turned around.
"Ron, after today's walk, I feel quite certain that I can do Whitney. It might take me a while. But so what? Let's get the permit. I sure hope they still have some left."
Harold had to drive the support car for us until Whitney Portal, but there was no reason why he couldn't climb the mountain with us. So, at 2:30 a.m., with Harold in the lead, the three of us started up the trail. I was in the middle. Harold would warn me about the obstacles on the trail, such as roots, rocks, and steps, and Ron would shine his flashlight towards them from the back. We also had to cross several creeks. All this made for slow going. To make matters worse, my flashlight stopped working. I had spare batteries, but it was the bulb that had burned out. Luckily, Ron had a spare one.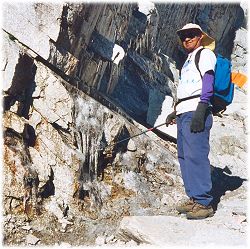 We made it to Trail Camp, elevation 12,000 ft. at about 7:30 a.m. Though sunny, it was cold and windy. Ron picked up the pace and went ahead. Besides being stronger than us, he was also well acclimatized to the altitude. He had climbed a few 14,000 ft. peaks in Colorado just a few weeks earlier. Harold and I made steady, albeit slow, progress and by noon, were just a few hundred feet below the summit. As we trudged up the rocky trail, we met Ron coming down. He had waited for us at the top but finally, the bitter cold forced him to start heading down.
We had run into Jan Levet, a friend of Ron's, in Lone Pine. She was staying at the same motel we were in and was going up Whitney the same day we were. She had started a little earlier than us and was now going down with Ron. She told us that she would give Ron a ride to the motel.