Townes Pass Summit, elevation 4,956 ft., on the ridgeline of the Panamint Range, separates Death Valley from Panamint Valley. Though the temperature at the pass was in the seventies, I used my small umbrella to shield me from the sun. Ron had started out in the shorts but he later switched to his long, white pajamas.
It was mostly downhill from the pass, but as I descended into the Panamint Valley, strong, hot winds coming over Panamint Dry Lake made walking a bit difficult. But soon I was climbing the small rise in the road leading to Panamint Springs Resort, where we were spending the night. The only thing resort-like was the prices. The rooms were small and in need of renovation. A five-minute phone call set me back $15 and regular gas sold for $2.80 per gallon. But it was literally an oasis in the desert.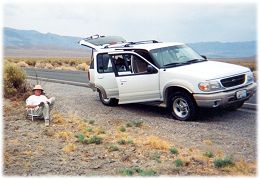 Since no restaurants were open by the time we left our motel each morning at 6 a.m., we ate our breakfast in our room. We drank instant coffee prepared by heating water with an electric immersion heater and devoured a few breakfast bars. On many days, Harold would drop us off and return to the motel for a sumptuous breakfast. No, we weren't envious of him; he had a tough job, maybe even tougher than ours, of sitting around in the hot weather and catering to our needs. We were happy to see him enjoy at least one pleasurable activity. But make no mistake: Ron and I ate plenty too. At home, I ate about 1,800 calories a day. All that walking made me very hungry and I probably consumed 5,000 calories every day. Since we couldn't get a burger and fries for lunch, we wound up snacking all day long.