Everest by the Bay
Achieving Himalayan heights in the San Francisco Bay Area
by Dinesh Desai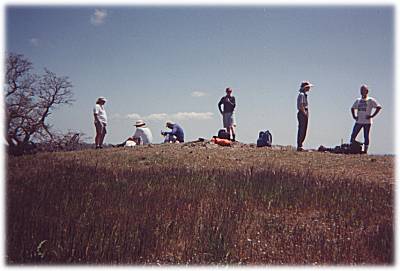 "Dinesh, it's Ron on the radio. He climbed Black Mountain this morning and he is already at the trailhead and starting up," said John, our de facto rear leader, and the one in charge of the two-way radio communication.
"Tell him we will take a little longer lunch break at the picnic area and if he still has some juice left in him, he can run up the mountain and catch up with us."
My wife Joy and I and several other friends were climbing Montara Mountain on the fourth day of our nine peaks in nine days "Everest by the Bay" hike-a-thon. I had dubbed it so because the cumulative elevation gain in climbing these nine San Francisco Bay Area peaks was calculated to be well over 30,000 feet, higher than the height of Mt. Everest.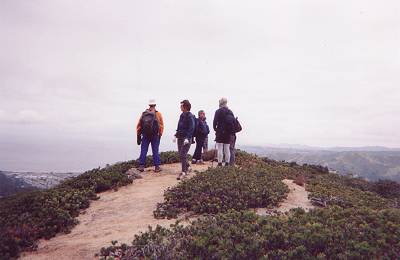 A viewpoint on the Montara Mountain hike. We were taking as many such stops as possible to allow Ron to catch up with us, but the cool and cloudy weather forced us to spend only a few minutes at each stop.