Everest by the Bay
page 2
Our first peak was Mt. Diablo. I had elected to start the hike at a trailhead near the south gate. Though that trailhead had only limited roadside parking, it had the advantage of saving considerable driving time. At 3,849 feet, Mt. Diablo is the tallest of the nine peaks. Though not high by mountain standards, it has a view area of over 40,000 square miles, supposedly second only to Africa's 19,000-foot Mt. Kilimanjaro.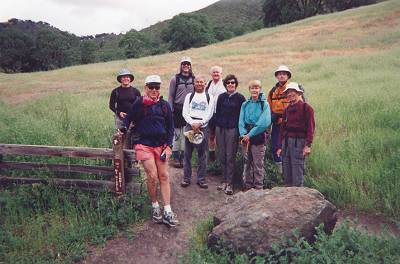 Saturday, April 27. The nine nine-peak hopefuls at the trailhead for Mt. Diablo. From left to right: Curt, Ron, Steve, Dinesh, Warren, Carol, Joy, John and Tom. Last names were not necessary as we were fortunate not to have several Johns or Toms or, heaven forbid, Dineshes.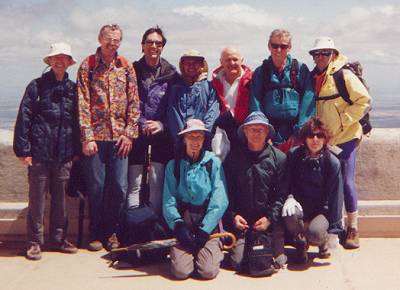 It is cold and windy at the top. All of us have extra clothing on now. That 40,000 square mile viewshed area appears to have shrunk to about 40 square miles. The hitchhiker (second from left) we picked up on the way is really Gerry, who has signed up to hike six of the nine peaks.
Our goal was to climb at least 30,000 feet in nine days. That's an average of 3,300 feet per day. Mt. Tamalpais, our destination on day two, is just 2,571 feet high. Even starting at sea level, which, incidentally, was possible on this hike, would not get us close to our desired average gain. On this and several other peaks, I had mapped out routes that did not take us straight to the top; rather, they involved losing and regaining substantial elevations either on the way to the top or on the return. Only on Mt. Diablo, Rose Peak and Loma Prieta did the routes lead straight from the trailheads to the tops and back.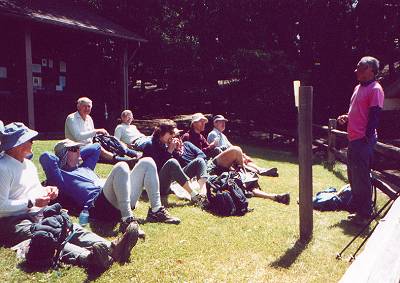 Unlike on Mt. Diablo, the weather is excellent and the lunch break at the Pantoll Ranger Station is a delight. The group actually seems to be listening to Dinesh; he must be either telling a joke or talking about some free deal.
We were only a quarter of a mile from the cars on our way back, when I noticed Gerry walking very unevenly. He looked like he could've fallen over any minute. We had come down the steep Fern Creek Trail quite fast and maybe his toes or feet were hurting. I assisted him by holding his upper arm and he made it to the cars. Later, however, he confided that the problem wasn't his feet but his blood sugar level. Gerry has had a thirty-year history of insulin-dependent diabetes. Amazingly though, he had been able to keep his blood sugar in the normal range by frequent snacking and using an insulin pump and thus participated in long and demanding hikes. His problem that day was towards the end; he didn't stop to eat. He probably didn't want to hold up the group or fall behind. All group hikes create such pressure on the participants, preventing many from stopping to eat, drink, take care of their blisters or take a pit stop.