The Desais Do Diablo
Site Navigation
We first met our friend Patrick in the mid-nineties. Joy and I had climbed many of the high points of California's 58 counties and were looking to climb county highpoints of Nevada. Patrick, who lived in Reno at the time, had the same goal. We became good friends. He loves the outdoors and has joined us on many of our past adventures, usually for two or three days. He was not going to miss Mt. Diablo. The north side trailheads were more than 90 minutes from our house, and we were staying in a motel in Concord to avoid commuting fatigue. Patrick lives in Colorado and has a demanding job as an air traffic controller. Still, he flew out on a Friday night, rented a car and a motel room and showed up in the morning at the appointed time. Don't we all wish we knew more people like Patrick? To keep my end of the bargain, I had to make sure that he got his money's worth. He is into climbing mountains and I selected hikes that involved climbing peaks.
Our first day's loop took us to Eagle Peak.
Olympia Peak was our destination the second day. According to a local legend, the peak was named after Olympia Beer, the brew of choice of the party building the trail. We began our second day's hike at Regency Drive trailhead. Of course, we did not make a beeline for the peak. We took a round about route, and on the way, hiked several stub trails too. We breathed a sigh of relief when we finally began hiking the well-graded Olympia Trail. But, our joy was short lived. After climbing five hundred feet to Olympia Road, the trail abruptly changed. The footing deteriorated and the trail twisted and turned as it began a slow descent. It was agonizing to see Olympia Peak looming higher and higher. After what seemed like an eternity, we arrived at its junction with East Trail, reputed to be the steepest in Mount Diablo State Park. Olympia Peak, a mile on the trail and 1,200 feet above us, looked imposing. By then, we were all a little tired. But, I knew from my past experience that if we just kept going, it wouldn't be long before we reached the top.
The incredible display of wildflowers kept our spirits high.
When Joy mentioned that Patrick was moving faster than we were, I told her that he should be. He was going to Russia in a few months to climb Elbrus, the highest mountain in Europe. Notwithstanding the claim by the French and many others, Mont Blanc, on the border of France and Italy, is not the highest mountain in Europe.
I hereby swear to tell the truth, the whole truth...
Back in 1986, Joy and I set out to climb California county high points by first climbing the high points of the nine Bay counties. By blindly accepting the prevailing wisdom, we climbed four high points that later turned out not to be so. Mt. St. Helena, Rose Peak, Borel Hill and Mt. Hamilton are not the high points of Sonoma, Alameda, San Mateo and Santa Clara counties respectively. I even wrote an article about our climbs in Scree, the newsletter of our local peak-climbing club. And, once again, I fell prey to unverified information. I wrote "Mt. Diablo is the high point of Contra Costa County" (correct) and "you can see more from its summit than any other place on earth except for Mt. Kilimanjaro" (incorrect). For more than 100 years, countless brochures and articles have made the claim, modified in more recent years to include, "except for Mt. Kilimanjaro."
So, how did this come about? According to an article in "Diablo Watch", Josiah Whitney (of Mt. Whitney fame), in his 1861 report to the legislature, wrote, "... it is believed that there are few, if any, points on the earth's surface from which so extensive an area may be seen as from Mount Diablo... The whole area thus spread out can hardly be less than forty thousand square miles." Later, Robert Burgess, a local developer, used the claim extensively to draw buyers to his newly developed "Mt. Diablo Estates".
Then, in 1991, Edward Earl, a county high pointer and a brilliant mathematician, came up with calculations that showed that the claim was not true. The "viewshed" area of Mt. Diablo is 18,000 square miles, whereas Mt. McKinley's is 72,000 square miles and Mauna Kea's is 59,000 square miles.
Still, there is no denying that the views from the summit of Mt. Diablo are expansive.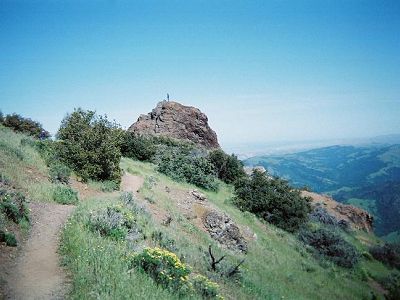 Site Navigation