The Desais Do Diablo
Site Navigation
Mount Diablo State Park encompasses over 20,000 acres, and it has about 187 miles of trails. In the past, like many others, we had hiked to the summit, from the south as well as the north. If someone mentioned the beautiful Falls Trail or the breathtaking Eagle Peak Trail, we drew a blank. But that was about to change. We were ready to crown ourselves the pseudo experts of the park's trails.
Since all the trails did not fit into nice loops, my estimate was that we would need to hike upwards of 230 miles. I spent many days configuring the trails we would hike each day. Without detailed planning, it would have been easy to miss parts of some trails. Luckily, the many trailheads, around the perimeter of the park and along the park's main north-south road, made backpacking unnecessary. Our plan was to reach our goal in 17 days. We would use 11 different trailheads for our day-hikes. Though the average length of our hikes was just under 14 miles, we did have two days of roughly 17 miles.
Joy and I began our hikes on April 30. Mt. Diablo is usually quite warm by late spring and my initial plan was to start the hikes in mid-April. But, this was a wet year in the Bay Area. Based on my recollection of the weather pattern of such years in the past, I gambled on a later start to miss the rains. I hit the jackpot. It rained five out of the last fifteen days of April. And the feared warm weather never materialized. It is not that we are afraid of hot weather. On the contrary, Joy and I once walked the length of Death Valley in daytime in summer. The temperature reached a high of 129°F, but we had planned our death march such that we had access to plenty of water. On Mt. Diablo, we couldn't be sure about replenishing our supply. Staying hydrated is the key to good physical performance (and survival). In spite of the below-normal temperatures, we each carried almost a gallon of water every day.
On our first day, we were accompanied by three of our friends. After taking the perfunctory photographs at the trailhead, we took the trail towards Castle Rocks. Against the backdrop of green shrubs and grass, they presented a wonderful picture.
The fun began when we descended to Stage Road. It parallels a creek, which meandered across the road several times. It had rained the previous days. At each crossing, we looked for rocks or logs that would help us get across. Surprisingly, no one complained when I announced that the crossings would have to be repeated soon. Though the road continued into Diablo Foothills Regional Park, we would turn around at the boundary. On the other hand, a pleasant surprise awaited us a couple of hours later. To complete a loop, we had to hike a connector trail named "Secret Trail". Taking the name literally, I urged everyone to be on a lookout for this elusive trail. To our surprise, not only was the trail junction well-marked, the trail itself was well-maintained. Then, we again reached Stage Road. We turned onto it in the opposite direction and climbed a few hundred feet to a gate to privately owned Diablo Ranch. This inholding created a problem for us on one of our subsequent hikes. But more on it later.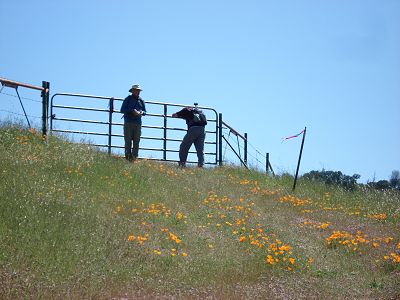 Stage Road was built in 1874 as a toll road to carry stagecoaches to the newly-built 16-room Mountain House Resort. The hotel was about a mile from the summit, near the present-day Junction Ranger Station. In the resort's heyday, many weddings and christenings took place there. But interest waned, and the resort closed in 1895.
We saw several turkeys and a few lizards. In subsequent days, we would see a few deer, but mostly snakes and lizards. We heard coyotes howl and saw areas where wild pigs had rooted around. There were pig traps scattered around the park, but none had an animal in it.
Wild Pigs
Wild pigs include both feral hogs (domestic swine that have escaped captivity) and wild boar, native to Eurasia but introduced to North America. Wild boar and feral hogs hybridize freely. Like domestic hogs, they may be any color. Some people mistakenly refer to them as javelinas. The latter are in a different family of mammals and are native to the southwest deserts.
Wild pigs are spreading rapidly throughout the foothills of the Bay Area. Given adequate nutrition, a wild pig population can double in well under a year. Feral hogs may begin to breed before 6 months of age if they have a high-quality diet. Sows can produce 2 litters per year of 6 to 8 piglets and young may be born at any time of the year. Wild boar usually do not breed until 18 months of age and commonly have only 1 litter per year unless forage conditions are excellent. They have few natural enemies. Once established, they are hard to stop. Many Bay Area parks have tried trapping with varying degrees of success. Not only are the animals quite intelligent, there isn't anything to prevent them from entering the parks from adjoining private lands.
At present, the trapped pigs are sent to a tallow factory. In the past, the pigs were given to charities for wild-game feeds. Unfortunately, the Department of Agriculture stepped in and prohibited the practice; the meat was a non-certified food product.
Site Navigation