The Desais Do Diablo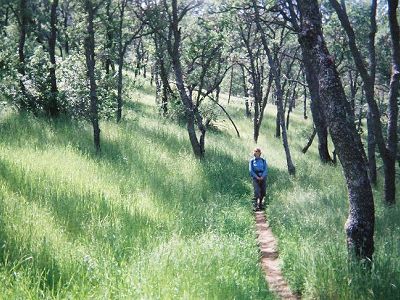 May 10, 2010: As my wife Joy and I rounded the corner of a trail on Black Hawk Ridge in Mount Diablo State Park, the full fury of wind, rain and hail bore down on us. There were even a few snowflakes. The ridge was only half way up the mountain and we shuddered to think what the conditions were near its 3,849-foot summit. We had been walking in light but cold rain for well over an hour. We had our Gore-Tex tops and bottoms, but our gloves were soaked and our hands numb. We had not felt it necessary to bring our over-mitts; after all, it was already May and Mt. Diablo is well known for its hot summers. Between the months of May and October, the park rangers are often called upon to assist people suffering from heat exhaustion or heat stroke, not hypothermia. We wondered where the much ballyhooed global warming was.
It was the eleventh consecutive day of our quest to hike all the trails of the park. Our definition of "all the trails" included even the seldom used, short, long, dead-end roads. Mostly, they terminated at private property or utility pole. Mentally, we found walking them a bigger challenge than a steep trail/road that was part of a loop. This was especially true towards the end of a day. By the afternoon of each day, we would have covered several miles, climbed a few thousand feet and looked forward to hiking the return route back to our car. Walking a road that did nothing to shorten the distance to our car wasn't very appealing. More than once, I thought of skipping a particularly steep road. Luckily, I was able to defeat all such moments of weakness. My inner strength probably had something to do with the fact that I was not alone.
Joy was even more exasperated with the roads. One day, we hiked the beautiful Black Point Trail. It had been cleared not too long ago and its gentle grade and the cool morning air made hiking it a delightful experience. Apparently, Black Point (elevation 1791 feet) is a popular destination. For, just beyond, the trail was quite overgrown. It gave us a feeling of being in a real wild place, and, in a way, we were happy that the trail wasn't cleared.
Still, the trail was easy to follow and we had no problem descending it to Red Road. We hiked up Red Road and soon arrived at what I call a pentagonal junction. There were four other roads going off in different directions. And, they all ended at gates to private properties. One was overgrown with thistles and another involved a climb of several hundred feet. After about three hours, we were still at the same junction. Finally, we were ready to begin our return journey. Joy was looking forward to checking out if there really were globe lilies on the Globe Lily Trail. Yes, there were. But, before we reached the trail, I pointed out a short utility road that we still needed to hike. She stopped, and for a moment, I thought she was about to bring out her utility knife. No, she just announced that this was the last utility road she was hiking. Since it was the last such road of the day, I kept quiet. Surely, she would feel differently the next day.
Site Navigation