The Real "Bay to Breakers"
Site Navigation
We Think We are Still Young - Part I
I belong to a hiking group called "The Rambling Wrinklies". Actually, I am the leader. The name of the group reflects the fact that most of its members are retired geezers. Still, we like to think that we are in as good a physical condition as we were years ago. To test this hypothesis, we undertake a strenuous hike in April each year. Our favorite park for such hikes is Henry Coe State Park, nicknamed "Killer Coe" due to its extremely rugged terrain.
Last year, we hiked from park headquarters to Bear Mountain and back. The hike involved hiking 22 miles and climbing a total of 5,200 feet. To say that we were all very tired by the end of the hike would be an understatement.
This year, I scheduled a round trip hike to Mississippi Lake this year. I estimated the hike to be a little over 22 miles with an elevation gain in the range of 5,500 feet. But Willow Ridge Road, formerly called the Roller Coaster Ridge, had more ups and downs than I had estimated. The end result was a cumulative elevation gain close to 6,300 feet. Surprisingly, we weren't as tired as last year, and we rightfully concluded "we are still young".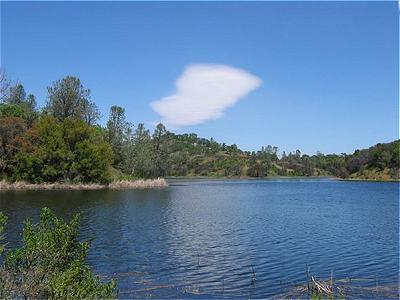 We Think We are Still Young - Part II
(at least some of us)
After successfully completing the one-day hike to Mississippi Lake and the two-day Real Bay to Breakers trek, I looked for a bigger challenge. Two of my hiking buddies and I are about the same age, having been born in the same year. I thought, what better way to celebrate our birthdays than to do what we enjoy the most: trying to kill ourselves?
In late July, we set out to climb three high mountains in Southern California: Mt. San Antonio ("Mt. Baldy"), San Bernardino Peak and San Jacinto Peak. To make it challenging, we would climb the peaks on three successive days. Each is over 10,000 feet. On our chosen routes, Mt. Baldy involved climbing 4,000 feet on a steep trail and the other two required a climb of 4,600 feet each.
Our base was a motel in Redlands, which was, roughly, an hour's drive from the three trailheads. We knew when we arrived in Redlands that we would need to carry plenty of water on our climbs. The temperature was 96 degrees F at 6:00 p.m.
I was slower reaching the summit of Mt. Baldy than the other two, but that was not unexpected. Both Ron and Chuck are a lot stronger. Even at 10,000 feet, it felt quite warm. On the descent, we took a different route that was mostly in sun. Halfway, Ron ran out of water and I was down to a few ounces. Luckily, we were able to fill up at the ski resort and hike down the remaining three miles to our cars without any further problems.
The eight-mile trail to San Bernardino Peak was a lot gentler for the first several miles. We made good progress and reached Limber Pine Bench, six miles and 3,300 feet from the start. Then the trail became steeper and rockier. Ron went ahead and I slowly trudged up behind Chuck. Chuck could have gone ahead too, but every so often he waited for me to catch up. Finally, he went ahead too, as I was moving excruciatingly slowly. I was tired and hungry. I stopped and ate my lunch. The food and the rest energized me somewhat. I was only 600 feet below the summit and I was on a high ridge with spectacular views. I resumed my ascent. But, soon, the euphoria faded. It finally sank into me that, at my slow pace, it was going to take an hour to get to the top. I still had many miles to go back to our car and I needed the time and the energy for a safe return before dark. I recited the mountaineer's mantra, "Going up is optional, going down is mandatory" a couple of times. I then left a note for Ron and Chuck and reluctantly headed back down. First Ron and then Chuck caught up with me and we returned to our car.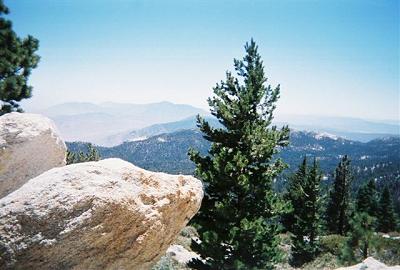 San Jacinto Peak was the third peak on our list. I had already climbed it many years ago. With my failure on San Bernardino Peak, I was in no mood or shape to attempt it as it involved the same distance and elevation gain as San Bernardino Peak. I hatched another plan on our way back to the motel from San Bernardino Peak. Ron and Chuck would go up the ridge route from Idyllwild, as per our original plan. Before driving to their trailhead, they would drop me off at the Palm Springs Aerial Tramway, around 7:30 a.m. The tram would take me 8,000 feet up to its Mountain Station. A trail from there joins the ridge trail in about three miles. I would climb the peak and return with Ron and Chuck via the ridge trail. This would cut the climb by about 2,000 feet, though the distance would still be 14 miles. Alas, it was not to be. I learned that on weekdays, the first tram leaves at 10:00 a.m. (it leaves at 8:00 a.m. on weekends) and I wouldn't be able to start hiking until about 10:30 a.m. That would not leave me enough time for a summit attempt. I enjoyed the tram ride and a hike to the ridge trail junction and down the trail to our car. Ron and Chuck made the summit and arrived back at the car an hour later.
There is less oxygen at high altitudes and it takes a lot more energy to climb high mountains. I had set the goal just a notch above my comfort level, and it turned out to be a bit more above my capacity. Though disappointed, I learned what my limit was. And that's just as important as an achieved goal.
Author's signature
Dinesh Desai
August 2009
Site Navigation