The Real "Bay to Breakers"
As we walked a short stretch of a service road in Portola Redwoods State Park, I spotted a few orange cones in the distance. Soon we came to a barrier and a "Road Closed" sign. Surprised by this unexpected obstacle and a bit aggravated, I blurted out "What's going on? Why is this road closed?" But then I saw the sign "Bridge Out". Though the others in my group were not familiar with the park, I knew that the bridge spanned Pescadero Creek and that it wouldn't be easy to cross the creek without the bridge.
Five of us were on the second day of our planned two-day walk from the Bay near Palo Alto to the ocean near Waddell Beach, north of Santa Cruz. We had 26 miles to cover and little time to lose looking for an alternate route. I wondered if the bridge was only damaged and, though unsafe for vehicles, still OK for pedestrians. I was not going to turn around until we had checked out the situation. We walked around the barrier and made our way amidst the tangle of construction materials. Luckily, even though it was a weekday, we didn't see any construction activity.
"It's gone; there is no bridge," said someone, confirming the sign.
We looked at the creek in front of us. The creek bed was fifteen feet below us. It was about 30 feet wide. The water was flowing in a deep but narrow channel, a few feet wide. Most of the rain in the Bay Area falls in winter and it was almost May. We also had received below-normal rainfall. Still, it wouldn't have been easy to cross that channel. But, as luck would have it, we spotted two narrow boards spanning the water. Most likely, the construction crew placed them to facilitate going back and forth across the creek. We carefully made our way down the slippery slope and crossed over to the other side. After a steep climb up the opposite bank, we were back on track. We breathed a sigh of relief. Little did we know then that we would soon have to deal with another, more serious, challenge.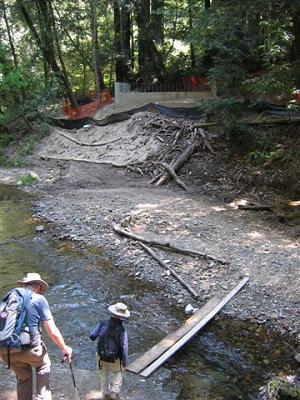 Site Navigation