Henry W. Coe State Park vs The Desais
And the winner is ...
Site Navigation
The Day Hikes
We were prepared for Henry Coe's challenging terrain, hard-to-find trails, poison oak and ticks, but, as if that wasn't enough, the heavy rains of early spring this year presented us with the additional challenge of stream crossings and trails blocked by downed trees and limbs. On a 2.3-mile section of the Middle Ridge Trail, we had to step off the trail and go around various obstacles 21 times.
On our first hike from the Hunting Hollow entrance, two of our friends joined us. It took us over an hour to walk the essentially level first three quarters of a mile of Hunting Hollow Road. In that section, a creek meanders across the road, resulting in six crossings. A couple of times, we jumped from rock to rock with varying degrees of success. At other times, we avoided the crossings by abandoning the road and instead, staying on the same side of the creek. The latter maneuver, unfortunately, required us to climb some slippery slopes thru poison oak. It was with a sigh of relief that we left the level road and started up Phegley Ridge Trail.
The trail was quite steep, but the incredible vistas put us in a joyful mood. The surroundings were green as far as we could see and the light filtering thru the trees gave the entire landscape a magical quality. As we crested a rise, Joy spotted a bobcat trying to catch a gopher. It was so intent on catching its prey that it completely ignored us. We just stood there and watched the action. A minute later, it scampered away with its prey.
Later in the day, as we hiked the Bowl Trail, our progress slowed. Yes, we were tired after a long day, but the slow going was mainly due to our stopping every few minutes to remove ticks that were constantly landing on us. I had well over 50 ticks in just a few minutes as I walked thru a narrow section lined with chamise. Joy and I were lucky not to have any ticks bore into us, but our friends weren't so fortunate. Later that night, they both found a tick attached to their skin. Luckily, they both had the 'Pro-Tick Remedy', a tick removal tool, and were able to safely remove the ticks. Anyone who hikes regularly should probably consider buying this inexpensive tool. Joy and I also wore long pants and long sleeved shirts, even in 90-degree-F weather. We tucked the shirts into our pants and pulled our socks over the pant cuffs. This strategy paid off; in spite of thousands, not an exaggeration, of ticks that landed on us, only one penetrated my skin.
Of the three western entrances, the headquarters is the place to start if one's objective is to hike an easy to moderate loop. On the other hand, most hikes from the Hunting Hollow entrance are quite demanding. Our hardest day hike was what I call the Dormida Loop. It is about 16 miles long with an elevation gain of almost 5,000ft. Though many variations are possible, our route took us up Lyman Willson Ridge Trail past Willson cabin and onto Vasquez Road to Dormida Creek. The display of wildflowers on this loop was breathtaking. The lightly traveled Vasquez Road had flowers growing on the road itself and we walked over them with some feeling of guilt.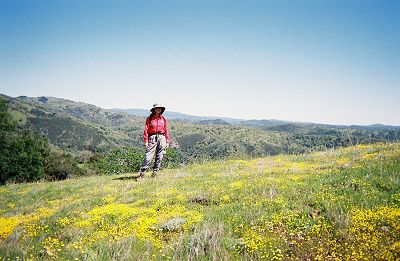 On this road, a ridge line separates, like a continental divide, two watersheds. The creeks to the west flow into Coyote Creek, which empties into the bay. The creeks to the east, such as Dormida Creek, flow into Pacheco Creek and then into the Pajaro River to the ocean. Orestimba Creek, which empties into the Delta via the San Joaquin River, constitutes the park's third watershed. The trail near Dormida Creek is quite obscure; one needs to walk in the creek itself for several hundred feet. However, the park map is quite detailed and a careful look at it should help one find the continuation. Since we had hiked this loop a couple of years ago, finding Vasquez Trail on the other side wasn't a problem, but climbing the 20-to-25% grade in the midday sun called for some real effort and a few loud groans. Still, unlike most people, I almost always look forward to such steep trails and Henry Coe provided ample opportunities: Steer Ridge Trail, Mahoney Meadows Road east of Lost Spring Trail, Hobbs Road north of the Middle Fork and Bear Mountain Road beyond the East Fork, to name just a few. At the other end of the spectrum are a few easy ones, such as Corral, Flat Frog, Springs and Forest Trails, all near the headquarters.
Our biggest setback came early. I learned that the Dowdy entrance opening was delayed and that it would not open in the spring. In addition, our request for special permission to use that entrance was denied too. It meant that we wouldn't be able to do the four planned day hikes from that entrance. And my entire backpacking plan was in shambles. If all my years of adventuring had taught me something, it was that obstacles are to be expected and that surmounting them is part and parcel of the game.
Site Navigation