A to Z:
Hiking the Alphabet Soup of Parks
in the San Francisco Bay Area
Site Navigation
A to H: Where we lost count of the hills we climbed
On a sunny, mild morning, Joy, Patrick and I, along with Ron, Skip and Chuck, arrived at the trailhead for our first park, the historic Almaden Quicksilver County Park. This was once the home of the largest mercury mine in North America. The mine opened a few years before California's gold rush, and it is said that without it the story of the gold rush could have been quite different. For, at that time, mercury was the only known substance that could separate gold and silver from rock. At its heyday around 1865, 1800 people lived on "Mine Hill". We passed by Mine Hill on our hike and tried to imagine what the area might have looked like.
The flora and fauna of our second day's park, Big Basin State Park, was the exact opposite of the previous day's: mostly redwoods and mixed evergreens, with chaparral at higher elevations as opposed to the oak woodland, chaparral and grasslands of Almaden Quicksilver. But it too has historical significance: the distinction of being California's first state park. Though the park was established in 1902, it couldn't be opened to the public until nine years later. In 1904, a fire broke out at a nearby sawmill and burned most of the new park except the area near the present day Redwood Trail. Many of the trees in that area are more than 1500 years old. We did experience a few frightful moments during the hike. At a creek crossing, Chuck lost his balance and we watched in horror as he appeared ready to smash his face on some of the many boulders nearby. Somehow, he managed to stay upright and avoid a disastrous fall. The day before, Skip had taken a tumble after hitting some tree roots on the trail, and Joy had hit her head on an overhanging branch. I was beginning to wonder if we shouldn't be wearing helmets instead of hats.
Ron, Edith, Herman and Sunil were to meet us at the trailhead for Calero County Park at 8:30 AM. We were all there on time except Sunil. We waited for him for about 10 minutes and then left to start our hike. I hated to leave without him, but I do not feel it is fair to ask people who show up on time to wait for a tardy person, regardless of the fact that the person may have a good reason for being late. Six of us waiting for 10 minutes meant to me an hour lost collectively.
We had been hiking for may be ten minutes, when someone tapped me from behind.
"Hey Sunil, I am glad to see you."
"I was at the wrong parking lot, the one at the reservoir. When I didn't see anybody there, even after it was 8:30, I realized that there may be more than just this parking area. I then drove over to the other (and, correct) parking lot. Luckily, a hiker pointed out to me which way you were headed and I ran and caught up with you."
Several days before, I had given Sunil directions to the parking area where we were to meet. The directions involved traveling on Highway 101 and taking an exit off it. Sunil used Yahoo maps instead. The map showed a surface street route, but, more importantly, it directed him to the reservoir parking lot. Sunil shouldn't feel too bad about not following directions. Even if he hadn't found us, only he would have suffered the consequences of not following the directions, unlike the participants in the story below.
On a crisp February morning in 1995, Jack (not his real name), Joy and I gathered at the Cottonwood Visitor Center in Joshua Tree National Monument. Our goal was to climb Eagle Mountain No. 1, a 5,300-foot desert peak. Jack followed us in his car as we drove north on Pinto Basin Road. After about three miles, we found the dirt road turnoff that we were looking for. The road was only 50 feet long, but it provided parking for our two cars.
From the parking area, we spotted the ridge, the mountain, and the large boulder field at its base. Before we could begin our climb, we had to first walk three miles across the desert flats to the boulder field. After hours of threading thru the boulder maze, we came to a ledge and followed a rocky gully to the ridge. As we looked around, we realized that we had climbed the wrong gully and were now a considerable distance from the true summit. There wasn't enough daylight left for us to try to reach Eagle summit, and the weather was deteriorating too. The valley in the distance was being hit by lightning. We climbed two secondary peaks, and reluctantly called it a day.
As we zigzagged thru the flat creosote and cholla-filled desert, our eyes were on distant landmarks that we had carefully looked at in the morning. Ours was a cross-country venture, meaning there were no trails. We made it to the paved road, but we didn't know which way our cars were. There was a simple solution. Joy and I would walk south on the road and Jack would go north. Whoever came to the parked cars would drive and pick up the other. We agreed to keep walking until we found the cars or were picked up by the other party.
Joy and I had walked maybe a mile when I suspected that the cars were in the other direction. In the faint light, I could see Eagle Ridge getting smaller in height. I told Joy that Jack should be driving up at any moment. Twenty more minutes, but no sign of Jack or our cars. Joy wanted to turn around, but I insisted that we had to stick to our plan and keep going. After almost an hour from the start, we finally saw the Visitor Center where we had first met Jack. It was time to turn around.
We hadn't walked back ten minutes, when we saw Jack walking towards us.
"What happened?" I asked Jack. "You were supposed to be going in the other direction, not follow us."
"I did walk in the other direction for five minutes and I came to that speed limit sign. I had seen that sign in the distance beyond where we parked our cars this morning. It didn't make sense for me to go further and I turned around."
"The speed limit sign you saw from the parking area wasn't the only such sign beyond the Visitor Center. I remember seeing such a sign before we reached that dirt road. And that's the sign you mistook for the second one."
"Well, I thought there was only one."
Jack was tired and we told him to continue to the Visitor Center and wait for us. Joy and I walked back two plus miles in total darkness and found the cars less than five minutes beyond the sign where Jack had turned around.
(Addendum: The three of us attempted the same mountain a year later and reached its summit. I also had a GPS, which made the task of locating our cars a breeze.)
While I was mapping out hiking routes in various parks, I had to make a decision: Should we hike all 14 miles in one park, or should we extend our hike into any adjoining park or parks? In the end, I settled on the notion that we should always start the hike in the 'Alphabet Park' but we could then hike adjoining parks if desired. Bordering Calero on the south side is Rancho Canada Del Oro, an open space preserve managed by a different agency. We started in Calero, but the hiking loop went thru Rancho Canada Del Oro. Joy is a keen observer and she spotted a turkey egg, sans the yolk. We all had seen turkeys, but this was a first. Though none of the hills in either park were very high, we did manage to accumulate 3,300 feet of vertical gain. We were going up and down practically the entire day. Patrick looked tired and his feet were hurting, but he wasn't ready to throw in the towel yet. I told him that the first few days were the hardest; your body then gets used to the new routine -- a euphemism for punishment. I don't know whether he believed me. It didn't help that the first eight parks all had hilly terrain. As it turned out, we climbed an average of 2,800 feet each day during the first eight days. We did not get a break until the mostly-level Iron Horse Trail on the ninth day.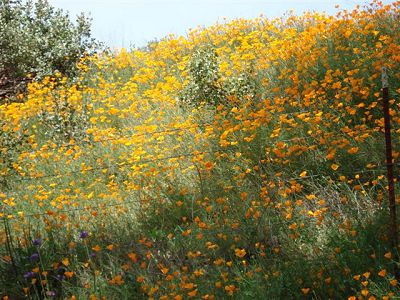 "I think you stepped on that rattlesnake", shouted Ron, as he and the others took a few steps back, away from the rattler on the trail.
We were hiking a narrow trail during our day in Fremont Older Open Space Preserve. I was in the lead and somewhat distracted by the beautiful vistas. I heard some furious rattling and, without wondering where the sound was coming from, ran further ahead on the trail. A rattlesnake bite can be poisonous and I was happy that I had avoided being bitten.
"Ron, I didn't step on it. If I did, I surely would have felt it." Ron and the others were still waiting on the other side for the snake to move away from the trail. "Maybe I just straddled the snake with the arch portion of my boot." We threw some small rocks at the snake, and it slithered under nearby shrubs. For whatever reason, I am not afraid of snakes, and the incident had no more effect on me than if a ladybug had landed on my arm. Later, I did check my cell phone address book to make sure that I had the emergency number (650/968-4411) for all open space preserves under the jurisdiction of Mid Peninsula Regional Open Space District. Because of the faster response time, the District recommends the use of above number in lieu of calling 911 whenever one is in one of their preserves.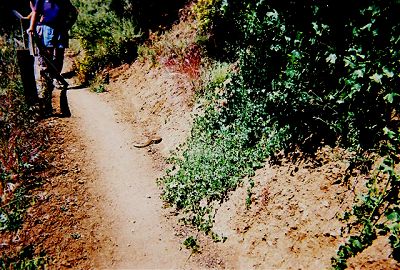 We finished the hike in just a little over six hours. I was somewhat surprised, as we had finished each of the previous five park hikes in six and a half to seven hours. We weren't walking any faster and the rest stops were leisurely too. Then it dawned on me: In order to make a loop hike, I had utilized a trail managed by the City of Saratoga. The trail zigzagged a lot and the map didn't show the length of the trail. Most likely, I had overestimated the length of the trail. The actual loop was probably a mile short of 14. Luckily, in several of the parks, the planned loops were in the 15-mile range. We would still hike well over 365 miles.
As we drove past Anderson Reservoir on our way to the headquarters of Henry Coe State Park, we were engulfed in fog. The headquarters is situated at an elevation of 2,600 feet. The fog became thicker with every turn of the winding road. Our hopes of having a pleasant day were getting dimmer by the minute. Lo and behold, as we approached the summit, the fog disappeared completely. We were going to have a pleasant day after all. Since my goal was just to hike 14 miles, not to achieve any particular elevation gain, I had planned an easy loop. The words "easy" and "Henry Coe" just don't go together. Henry Coe is known for its steep trails among its high ridges and deep valleys. In 2006, Joy and I had hiked over 450 miles on almost all the trails in the park and I knew the park well. We started on Corral Trail and then crossed over to Flat Frog Trail. After almost three miles, we had climbed a total of less than 75 feet, surely a record of some sort for this hilly park. In addition, over 90% of trails we hiked were pleasant trails rather than old farm roads marked as trails. After a refreshing stop at China Hole, where we surprised a couple of nude sunbathers, we hiked up the gentle trail leading to the ridge. Our total elevation gain for this loop in "Killer Coe" was only 2,300 feet. One of the pleasant surprises of the hike was the almost total absence of ticks. This was the case in all the parks we hiked. The dry spring probably was the reason. During the same period, a couple of years ago, the Bay Area had experienced one of its wettest springs, and Joy and I had literally removed hundreds of ticks each day as we hiked the trails of Henry Coe.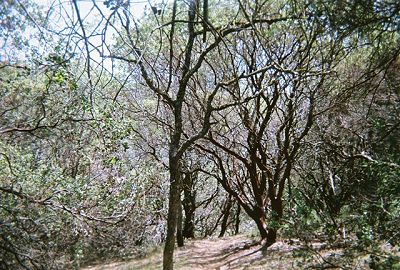 Site Navigation