A to Z:
Hiking the Alphabet Soup of Parks
in the San Francisco Bay Area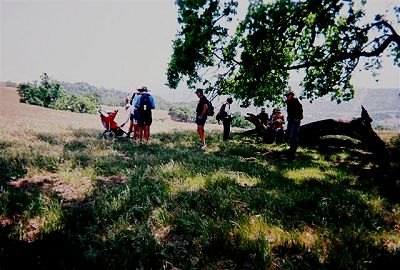 Sometimes timing is everything.
Early in 2008, California Governor Arnold Schwarzenegger announced that the state would be facing a huge budget shortfall. To cut costs, along with other measures, he proposed closing several state parks. The closure list included two parks in the San Francisco Bay Area: Henry Coe and Portola Redwoods. Like any other park lover, I wasn't too thrilled to hear the news. The question in my mind was when and how the parks could be reopened. And yes, Henry Coe, well known for its challenging terrain, is one of my favorite parks. Still, I had to disagree with others who implied that the closure would rob Bay Area residents of low-cost outdoor recreation. This in spite of the fact that the Bay Area is home to literally hundreds of parks. I suppose that's how the political game is played: don't let the facts get in the way, just say what is likely to get the most attention.
Prior to the Governor's announcement, I already had compiled a list of 26 Bay Area parks, their names starting with the 26 letters of the alphabet, that my wife Joy and I planned to hike during the month of May. It was thus just a coincidence that I had the list ready to show to all those who were distraught over not being able to go out and hike. They were surprised that I could produce such an extensive list in no time at all. Of course, my lips were sealed.
Behind the Scenes
When I was picking the parks for my alphabet soup, I had several choices for some letters and hardly any for the others. When I had a choice, I would pick a park closer to our home, primarily to avoid traffic problems. The most troublesome, as one would guess, were Q, V, X, Y and Z. For the letters N and Z, I had to pick parks technically outside the Bay Area. New Brighton State Beach is in Santa Cruz County; Zmudowski State Beach is in Monterey County. For those not familiar with the nomenclature, I will say that the term "Bay Area" is usually applied to the nine counties that border San Francisco and San Pablo Bays: San Francisco, Marin, Sonoma, Napa, Solano, Contra Costa, Alameda, Santa Clara and San Mateo.
After picking the 26 parks to hike, I had to decide the number of miles to be hiked in each park, and thus the total number of miles. My first impulse was to hike a total of 500 miles and dub our hike-a-thon "the Indy 500 on foot". It was a perfect title, as our last hike would have been during Memorial Day weekend, when the Indy 500 auto race is usually held. But that would have entailed hiking 19-plus miles a day. Though Ron Perkins, a friend of ours, and I had walked an average of 24 miles a day during our trek from Badwater in Death Valley to the top of Mt. Whitney, it was only for seven days. Additionally, on most days, the heavy Bay Area traffic would require us to spend a couple of hours just getting to and from the various parks. I just had to set a more reasonable goal. I found a good balance in 365 total miles. There isn't anything magic about that number, except that it is the number of days in a year. More importantly, though, it resulted in our daily mileage dropping to 14, a more reasonable goal. I also had to reckon with the fact that, in most parks, even a 14-mile hike would require an elevation gain and loss of 2,500 to 3,000 feet.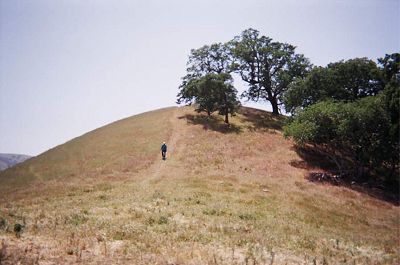 Initially, my plan was to take a rest day once a week. And, there was to be no particular order in which we had to hike the 26 parks. On a hot day, we could then pick a park with lots of trees. We could also hike a park with a mostly-level trail after two or three hard days. Somehow, I soon found myself not too excited about the whole project. I was convinced that both Joy and I wouldn't have any real problem completing the 26 hikes. Sure, Joy would have to deal with her usual blister problems, and I would have to deal with -- a first for me -- a persistent heel pain. But the project just wasn't challenging enough and I had a tinge of boredom about it before even taking the first step. I needed to make the project a bit harder and inject an element of uncertainty. Unlike many people, I wasn't going to be content with just enjoying many days of hiking in different parks and getting more fit in the process. But only two small changes did the trick for me: we would not take any rest days and we would hike the parks in alphabetical order.
I had invited several of our friends to join us for one or more days, but there were only a few who could conceivably join us for all 26 days. Of those, only Patrick Cloherty had the time available and, after some soul searching, he decided to give the project a try.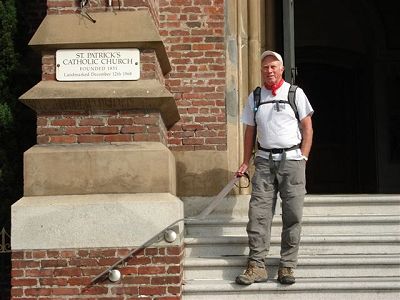 Site Navigation