Everest by the Bay
Mt. Tamalpais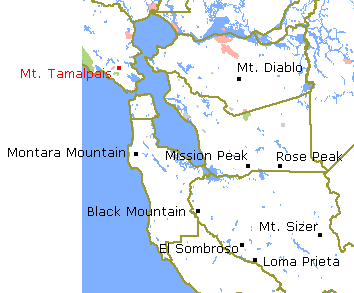 This page describes the specific hiking route used on Mt. Tamalpais for Everest by the Bay.
Fast Facts
Location of the route:

Mt. Tamalpais State Park and Marin Municipal Water District near Mill Valley in Marin County

Trailhead elevation above sea level:

935 feet (285 meters)

Summit elevation above sea level:

2571 feet (784 meters)

Elevation gained on our route:

2940 feet (900 meters)

Distance walked on our route:

13 miles (21 kilometers)

Parking or other fees

None at this trailhead
All distances and elevations are approximate [ more info ].
Trailhead
From US 101 near Mill Valley, exit at Stinson Beach/Highway 1. After 0.6 mile, turn left at the traffic signal, staying on Highway 1. After 2.6 miles, bear right at the fork onto Panoramic Highway (a sign says "Mt. Tamalpais"). After about 1 mile, at a 4-way intersection, take the high road, Panoramic Highway (again, a sign says "Mt. Tamalpais"). After about 2 more miles, Mountain Home Inn is on your right. Park in the lot on your left, across the highway from the inn.
The Route
From the trailhead, follow Alice Eastwood Road downward. Turn right and upward onto Troop 80 Trail and follow it to Van Wyck Meadow. Follow Bootjack Trail towards Mountain Theater, then take Alpine Trail to Pantoll (rest rooms, water). From there, follow Old Mine Trail to Dipsea Trail, on which you travel down towards Stinson Beach. At the stream junction, turn right onto Steep Ravine Trail and follow it right back up to Pantoll. From there, cross Panoramic Highway and follow Old Stage Road to West Point Inn (rest rooms). Then take Old Railroad Grade up to the end of the public auto access road, then turn right and stay to the right on a gentle grade to the visitors center area (rest rooms, water, food), and continue up to Mt. Tamalpais East Peak. Return to the parking lot via Fern Creek Trail, a lower section of Old Railroad Grade, and Hogback Trail.
Trail Maps
Obtain the Mt. Tamalpais State Park map by calling 415.388.2070. This map shows both the portion of the hike within the state park and the portion within the Marin Municipal Water District.
The National Park Service's Muir Woods Trail Map shows a portion of the hike
Owners of TOPO! software and its San Francisco Bay Area CD can use the Everest by the Bay .tpo file
Elevation Profile
This profile shows the entire round-trip route. [ More info about elevation profiles. ]