Everest by the Bay
Mt. Diablo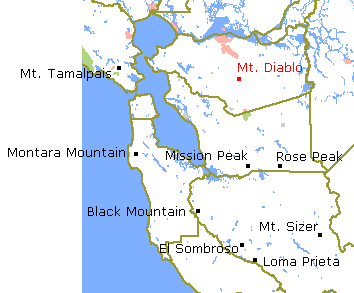 This page describes the specific hiking route used on Mt. Diablo for Everest by the Bay.
Fast Facts
Location of the route:

Mt. Diablo State Park near Danville and Alamo in Contra Costa County

Trailhead elevation above sea level:

790 feet (241 meters)

Summit elevation above sea level:

3849 feet (1173 meters)

Elevation gained on our route:

3440 feet (1050 meters)

Distance walked on our route:

12 miles (19 kilometers)

Parking or other fees

None at this trailhead
All distances and elevations are approximate [ more info ].
Trailhead
Exit Interstate 680 in Danville onto Diablo Blvd and go east. Turn left onto Mt. Diablo Scenic Blvd. Proceed about 0.8 miles. Driving slowly, look for the State Park boundary. Just beyond, you will see a small dirt strip for parking on your right and the Summit Trail trailhead on your left. (Note: As of May 2010, parking is no longer allowed near this trailhead.)
The Route
Follow Summit Trail from the trailhead to the summit, and return along the same route.
Trail Maps
Elevation Profile

This profile shows the first half of the out-and-back route. [ More info about elevation profiles. ]