Everest by the Bay
Black Mountain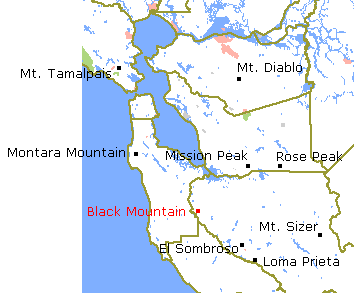 This page describes the specific hiking route used on Black Mountain for Everest by the Bay.
Fast Facts
Location of the route:

Rancho San Antonio Open Space Preserve and Monte Bello Open Space Preserve near Los Altos Hills in Santa Clara County

Trailhead elevation above sea level:

470 feet (140 meters)

Summit elevation above sea level:

2800 feet (853 meters)

Elevation gained on our route:

3610 feet (1100 meters)

Distance walked on our route:

12 miles (19 kilometers)

Parking or other fees

None at this trailhead
All distances and elevations are approximate [ more info ].
Trailhead
From Interstate 280, take the El Monte Road exit and go west. After passing Foothill College on your right, turn left onto Moody Road. (There is a stop sign at this intersection.) Then, in about 0.5 miles, turn left on Rhus Ridge Road. Continue for 0.2 miles, then turn right and descend to a small parking area.
The Route
Follow Rhus Ridge Trail up to a saddle. From there, follow Black Mountain Trail almost all the way to the top, going around the antenna installation, and turn left on Monte Bello Road to the summit. Return to the junction of Monte Bello Road and Black Mountain Road but but continue ahead on Monte Bello Road. After 0.2 mile, veer left onto Indian Creek Trail and descend. At Canyon Trail, turn right. At Bella Vista Trail, turn sharply right and climb. At Old Ranch Trail, turn right again. Continue, staying to the right until you reach a junction with Indian Creek Trail, where you turn left. On reaching Monte Bello Road again, veer right. Near the summit again, turn left onto Black Mountain Trail, descending to Rhus Ridge Trail and finally the trailhead.
Trail Maps
Elevation Profile

This profile shows the entire round-trip route. [ More info about elevation profiles. ]